Mark and Nicola Tipping decided to support Headway Preston and Chorley as one of their chosen charities in 2016, for the second year running.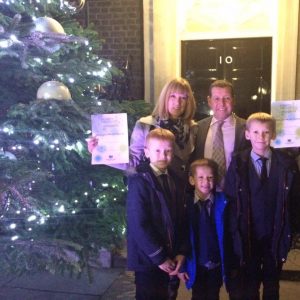 Mark and Nicola, who live in Cottam, Preston, have been supporting small local charities for five years by lighting up their home with over 30,000 lights and encouraging donations. By 2015 the couple had already raised a total of £35,000 and were given a British Citizen Award for service to volunteering and charitable giving.
On 22nd January 2017 they donated £2000.00 of the total amount raised in 2016, to Headway Preston and Chorley.
Liz Bamber, Headway Manager said, "Mark and Nicola have raised thousands for local causes over the last five years and we are delighted that for the last two years, they have chosen to support people with acquired brain injury. If you have not seen their fantastic display, you will need to wait until December 2017! – it really is spectacular, and we thank them very much for including our small charity".