Its action for brain injury week and across the UK Headway groups and branches have organised events and initiatives to mark the week long campaign. At Headway Preston and Chorley we have our latest newsletter published today containing all the news from Lancashire and dates of our meetings. You can download your copy or if you would like a paper copy plea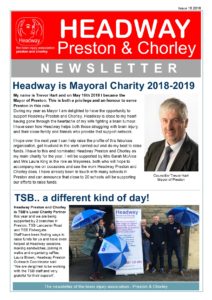 se email us at: services@headwaycentrallancashire.org.uk.
On Tuesday 15th May we are at the Chorley Drop In from 1pm – 3.30pm and welcome the Lancashire Historical Society speaking about family history.
Wednesday 16th May we are invited to the new Mayor making ceremony as we are his nominated charity of the year 2018/2019.
Wednesday 16th May we are also at the ABI service at Guild Lodge for their conference 'A new me'.
The week culminates with the Headway Preston and Chorley Sapphire Ball a major corporate fundraiser for the charity.
Headway Preston and Chorley Newsletter 16
Attachments