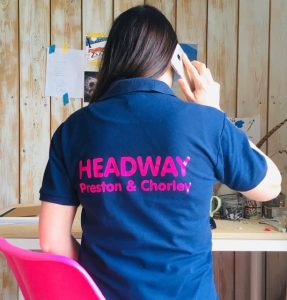 Keep in Touch was added to our service during the Covid-19 pandemic lockdown. We offered regular telephone friendship calls of approx. 15 minutes to check in and provide a listening ear.
Although the project funding has ended we are still running a scaled down version of Keep in Touch and we are looking for volunteers to work on the project.
What Keep in Touch offers:
Regular contact with Headway Central Lancashire.

Listening to concerns and giving appropriate advice.

Reassuring clients who might be worried about becoming unwell and to advise them of what do to if they have any symptoms.

Preventing isolation, negative thoughts and low mood.

Assisting people to establish a home routine.

Providing virtual welfare benefits assistance and form filling.

Assisting clients to obtain information form other organisations (assisted signposting).
The service is not a counselling service and specialist medical advice cannot be given however, we can provide information on welfare benefits, legal and employment advice.
How to contact us:
Helpline: 07557123493
Laura: 0783637197        
Margaret: 07808 648728
If you would like to have us call you we can also be contacted via email: services@headwaycentrallancashire.org.uk
This project was funded by the Lancashire COVID-19 Community Support Fund and National Emergencies Trust.
How to donate to our charity: https://headwaycentrallancashire.org.uk/how-to-donate/